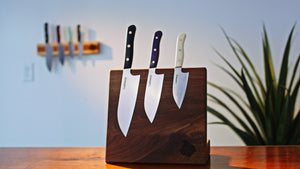 Our Best Deal Ever
Save $150 on Our Sanrok Set
$150 off
Use the discount code Dads at checkout
The Gift that Lasts a Lifetime
The Classic Sanrok at it's Lowest Price Ever
Handcrafted with great care, these knives are expertly shaped and ground by hand, ensuring exceptional performance and durability. They are built to withstand the test of time, meaning this set will be the last one you'll ever need.
Cudaway's Best Deal Ever
Free Magnet Board
When you buy the Sanrok Set we will throw in a free handmade magnet board. Made from premium black walnut, it's the perfect way to show off your blades.
$150 off
Use promo code: Dads at check out to get $150 off the Cobalt Series. Supplies are limited. Grab yours now before they're gone.
What Set Our Chef Knives Apart
Indulge in the ultimate dining experience with Cudaway's premium chef knives. Our chef knives are meticulously crafted using only the highest quality materials, ensuring unrivaled performance and durability.
Made from high-carbon stainless steel, our chef knives boast unparalleled hardness, while remaining rust-resistant, stain-resistant, and corrosion-resistant. And because we grind every blade by hand, our chef knives are much thinner than those churned out by mass production, resulting in a longer-lasting, sharper edge.
At Cudaway, we firmly believe that a sharp knife is a safe knife. That's why we're dedicated to providing you with the sharpest tool in the drawer. Our commitment to your satisfaction extends beyond the initial purchase. We offer free sharpening for life, and all of our chef knives come with a lifetime warranty, ensuring that you'll always have a sharp blade at your disposal.
Experience the difference with Cudaway's premium chef knives, and elevate your dining experience to new heights.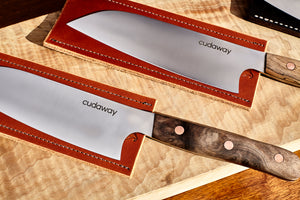 Lifetime Warranty
When we say these chef knives will last a lifetime, we mean it. Every Cudaway knife will be replaced, repaired, and sharpened free of charge.
We're not the only ones who know our knives are awesome
"I'm a BIG knife guy and these beauties take the experience of cooking to new heights. The shape and weight are so darn perfect for a chop freak like me. I don't really understand the physics of why they are so sharp and balanced, but I reach for em a LOT."

— 

Eric Wareheim, Actor/ Author of Foodheim
"With all of the traveling I do I just love this knife and its versatility. I'm able to use it both indoors and outdoors, so no matter where I'm Cheffing it's coming with me! Instantly you can see the craftsmanship from the handle to the steel. The durability of the edge is like no knife I've ever used."

— 

Chef Marco Niccoli, Chef/ Author/ Restauranteur
"I highly recommend these knives. I have the 7" Sanrok and it's the perfect utility knife for me in the kitchen. From skinning salmon to chopping vegetables, I've used it for everything! Perfect weight, sharp blade, the craftsmanship is on point."

— 

Chef Dante Gibson, Private Chef