Handmade Butcher Blocks
The perfect cutting surface for your kitchen
What Set Our Butcher Block Apart
By utilizing end grain cuts, these blocks not only look amazing but offer exceptional performance. The end grain surface is gentle on your knife's edge, ensuring they stay sharper for longer. Unlike cheaper edge grain boards, our butcher blocks are self-healing, minimizing the accumulation of deep cuts over time. This unique feature enhances the overall hygiene as deep cuts can harbor bacteria and unwanted contaminants.
We're not the only ones who know our knives are awesome
"I'm a BIG knife guy and these beauties take the experience of cooking to new heights. The shape and weight are so darn perfect for a chop freak like me. I don't really understand the physics of why they are so sharp and balanced, but I reach for em a LOT."

— 

Eric Wareheim, Actor/ Author of Foodheim
"With all of the traveling I do I just love this knife and its versatility. I'm able to use it both indoors and outdoors, so no matter where I'm Cheffing it's coming with me! Instantly you can see the craftsmanship from the handle to the steel. The durability of the edge is like no knife I've ever used."

— 

Chef Marco Niccoli, Chef/ Author/ Restauranteur
"I highly recommend these knives. I have the 7" Sanrok and it's the perfect utility knife for me in the kitchen. From skinning salmon to chopping vegetables, I've used it for everything! Perfect weight, sharp blade, the craftsmanship is on point."

— 

Chef Dante Gibson, Private Chef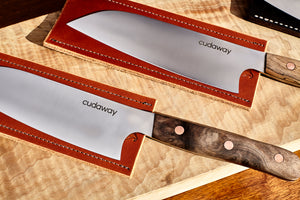 Lifetime Warranty
When we say these steak knives will last a lifetime, we mean it. Every Cudaway knife will be replaced, repaired, and sharpened free of charge. We believe in our products.